H1N1 Pandemic Tools You Can Use!

Give you two files from the swine flu virus h1n1 and download free files and the source of the site http://www.toucaned.com Files are good and the very valuable information I would be happy if I made use of the information mentioned
H1N1 Pandemic Tools You Can Use!

We update these files often to stay current with new information about the H1N1 flu virus as it becomes available. Be sure to visit this Web page periodically to download the latest materials.
Two Free Downloads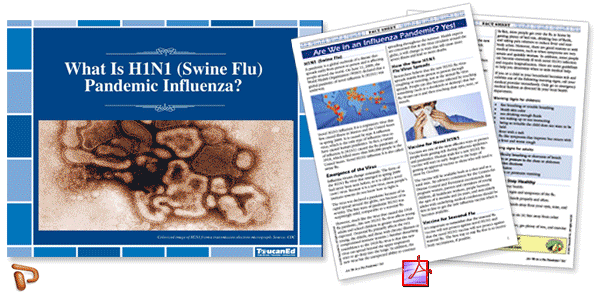 H1N1 PowerPoint Presentation
This contemporary slide presentation is a free educational tool about the H1N1 pandemic. Slides deliver current facts about Novel H1N1 influenza A, global prevention measures that are in effect, vaccines that are in progress, and the latest CDC guidelines.
H1N1 Fact Sheet
Designed to coordinate with the H1N1 PowerPoint Presentation, this colorful fact sheet
"Are We in an Influenza Pandemic? Yes!"
presents information on current H1N1 flu virus facts in a printed format. It is provided to you as a free educational tool and can be personalized for your organization with just one phone call!
by